Event Type:
Health and Medicine
Learning, Wellbeing, and Models of Innovation
The Global Health Studies Program will continue its Fall 2021 Global Health Speaker Series with the discussion, "Learning, Wellbeing, and Models of Innovation." Questscope's Founder Curt Rhodes and COO Muthanna Khriesat (a 2021 World Fellow) will address models of innovation and social entrepreneurship in their experiences with an international organization committed to social development, emergency assistance, and alternative pathways to learning for youths in the Middle East and North Africa region. Rhodes will join via Zoom. The series—organized by Jackson Professor Catherine Panter-Brick and Jackson lecturer Cara Fallon—examines transformative relationships between health and a range of fields including public policy, law, technology, international relations, scientific research, economy, journalism, and more….
More Information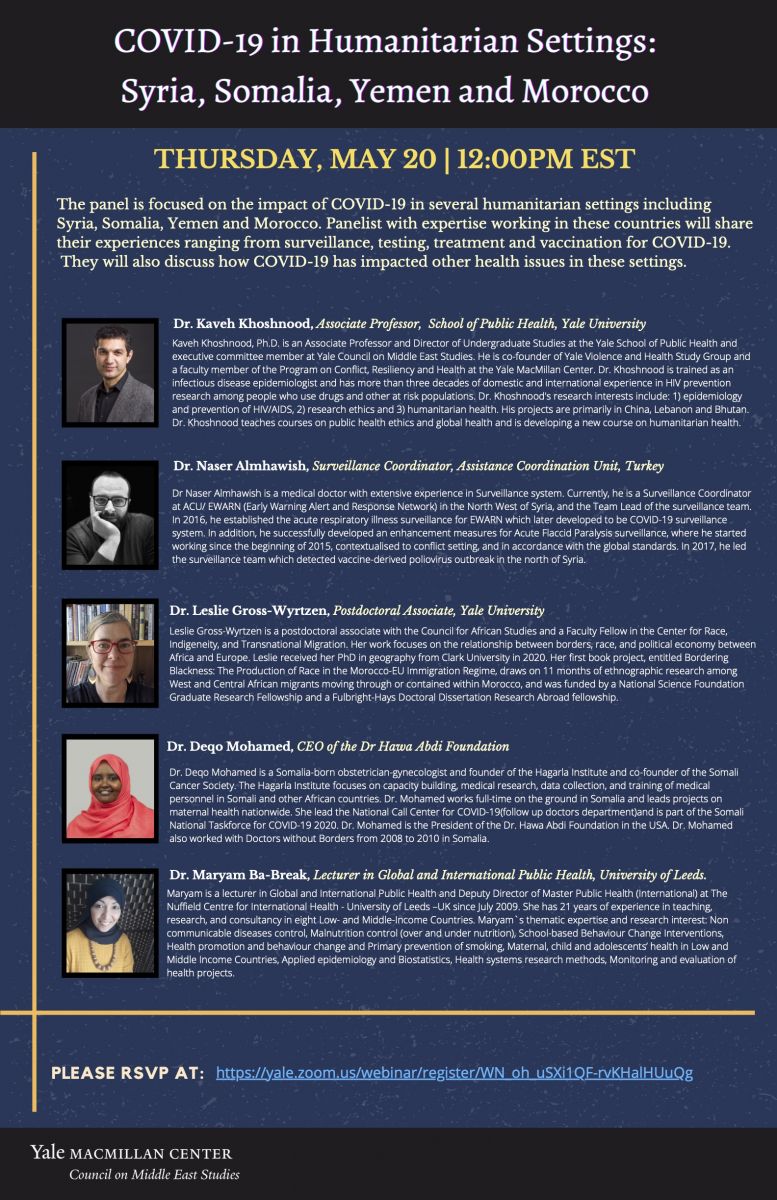 Panel: COVID-19 in Humanitarian Settings: Syria, Somalia, Yemen and Morocco
The panel is focused on the impact of COVID-19 in several humanitarian settings including Syria, Somalia and Yemen. Panelist with expertise working in these countries will share their experiences ranging from surveillance, testing, treatment and vaccination for COVID-19. They will also discuss how COVID-19 has impacted other health issues in these settings. Panel speakers: Dr. Kaveh khoshnood, Associate Professor, School of Public Health, Yale University Dr Naser Almhawish, Surveillance Coordinator, Assistance Coordination Unit, Turkey Dr. Leslie Gross-Wyrtzen, Postdoctoral Associate, Yale University Dr. Deqo Mohamed, CEO of the Dr Hawa Abdi Foundation Dr. Maryam Ba-Break, Lecturer in Global and International Public Health, University of Leeds.
More Information