Global Migration and Youth Leadership in the Pursuit of Freedom
Thursday, December 1, 2022 6:30 PM - 8:30 PM
Location:
Henry R. Luce Hall
Free but register in advance
101 (Auditorium)
34 Hillhouse Avenue
New Haven
CT
06511
Code: LUCE
Description:
According to the UNHCR, 89.3 million people around the world were forced to flee their homes as a result of persecution, conflict or violence in 2021. That figure reached 103 million in mid-2022. Among them are nearly 27.1 million refugees, around half of whom are under the age of 18. While these young people require support, they are also uniquely capable of effective change and leadership of mobilizing civic engagement in their home communities and in the world. Yet, the odds often seem to be stacked against them. What can be done about this?
This panel tries to piece together a framework for the role of youth leadership in systemic change. By using three countries—Afghanistan, Belarus, Myanmar—as case studies, the panelists representing these countries will address the challenges and opportunities of the generation that will be leading important changes to achieve the freedom for their countries.
An accompanying reception with food and refreshments will follow the panel to give students an opportunity to engage with the panelists. Open to the Yale community, please register in advance.
MANASI SUBRAMANIAM: Editor-in-Chief, Penguin Random House India (Yale World Fellow 2022)
MINAMI TSUBOUCHI: Founder, BEYOND Tomorrow (Yale World Fellow 2022)
MOHAMMAD "MUSA" MAHMODI (Afghanistan): Human Rights Lawyer (Yale World Fellow 2020)
ANDREI KUREICHIK (Belarus): Playwright, director, and civil activist (Yale World Fellow 2022)
DAVID MOE (Myanmar): Postdoctoral Associate, Southeast Asian Studies, Yale University
Open To:
Arts and Humanities, Cultural and International, faculty, Graduate and Professional, Law, Politics and Society, Panel Discussions and Roundtables, Social Sciences, Spouses and Partners, Staff, Students, Talks and Lectures, undergraduate, Yale Postdoctoral Trainees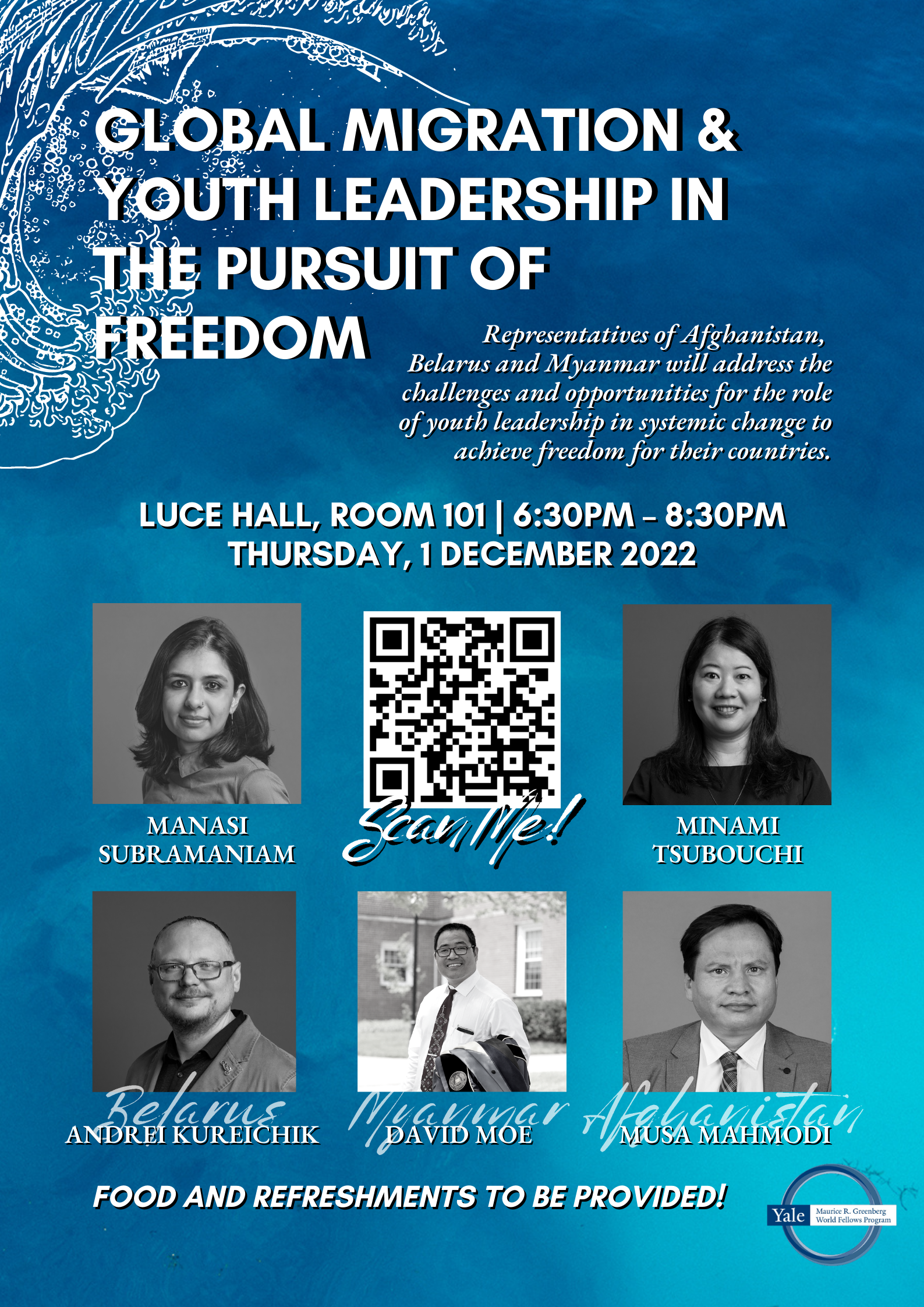 Contact:
World Fellows Program
Phone: 203-432-1910
Email:
world.fellows@yale.edu
Accessible:
No