Migration Crisis in the Belarusian Borderland
Tuesday, November 30, 2021 12:30 PM - 2:00 PM
Location:
Online
Free but register in advance
Description:
Featuring:
-Sylwia Gregorczyk-Abram, Polish human rights lawyer and 2021 Yale World Fellow
-Mauro Mondello, freelance reporter, war correspondent, documentary filmmaker; and 2020 Yale World Fellow
-Maksimas Milta, MA Candidate in European & Russian Studies, Yale; and professional in higher education management, policy analysis, and media of Lithuania and Belarus
Moderated by Dr. Bradley Woodworth, Program Manager of Baltic Studies Program at the MacMillan Center, Yale
Sponsored by the following MacMillan Center at Yale programs and area studies councils: Baltic Studies Program; European Studies Council; Program on Refugees, Forced Displacement, and Humanitarian Responses; Council on Middle East Studies
Register to Attend on Zoom: https://bit.ly/3FySvrS
Biographies:
Mauro Mondello is a former Yale World Fellow 2020. He is a freelance reporter, war correspondent, documentary filmmaker and the co-founder of Yanez, an online long-form journalism magazine. Often focusing on human rights and freedoms, his reporting strives to garner dignity and respect for all cultures and religions and to foster an open society that provides shelter for refugees and space for all humanity. He began his journalism career as a staff journalist in Italy and was based in South America between 2008 and 2011. He then moved to Tunis to report on the Arab Spring uprisings in Tunisia, Libya, and Egypt. From 2013 to 2019, he was based in Berlin, Germany. Mauro's current work reports on a variety of issues, including refugees, migration, human rights, EU foreign policy, civil movements, mafia and Italian criminality, nuclear waste and climate change. His documentaries include "Lampedusa in Berlin," a report about the eviction of migrants in Berlin, filmed in 2015.
Sylwia Gregorczyk-Abram is a current Yale World Fellow 2021. She is an attorney-at-law and social activist, working with NGOs on developing a democratic civil society and protecting the rule of law in the Polish justice system. She is Co-Founder of the Justice Defense Committee and the Free Courts Foundation, both of which monitor and archive political pressure on judges and lawyers, giving them legal aid. She regularly participates in legislative processes in Poland's Parliament as an expert in parliamentary Constitutional Governance and Reform of the Justice System groups. She also presents on the state of the Polish justice system to the European Commission.
Maksimas Milta is a master's student in the European and Russian Studies program. Originally from Lithuania, he joined Yale with a professional career tracking at the intersection of higher education management, policy analysis, and media.For eight years, Maksimas worked at the European Humanities University, Vilnius-based Belarusian University-in-Exile, leading communications and development. Since the beginning of the protests in August 2020, he commented on developments in Belarus for leading Baltic, Nordic, Polish, German, Swiss, Dutch media, Le Figaro, Times Higher Education, BBC World News, the New York Times, and others. Later, in 10 episodes of 'Talaka', his first documentary show on the Lithuanian National TV, Maksimas explored the role of women in mobilizing the Belarusian society. Recognizing his on-the-ground reporting from Belarus, Maksimas received the annual Titan award by Delfi, Lithuania's largest media portal. At Eastern Europe Studies Center's Belarus Research Program, Maksimas has analyzed Belarus' societal, economic, and security policy and co-hosted Minsk Express, a bilingual monthly podcast. In 2021, Maksimas received ReThink.CEE Fellowship at the German Marshall Fund of the United States, analyzing Higher Education as a Source of the soft power of the European Union in Eastern Partnership Countries.
Open To:
Cultural and International, Law, Politics and Society, Panel Discussions and Roundtables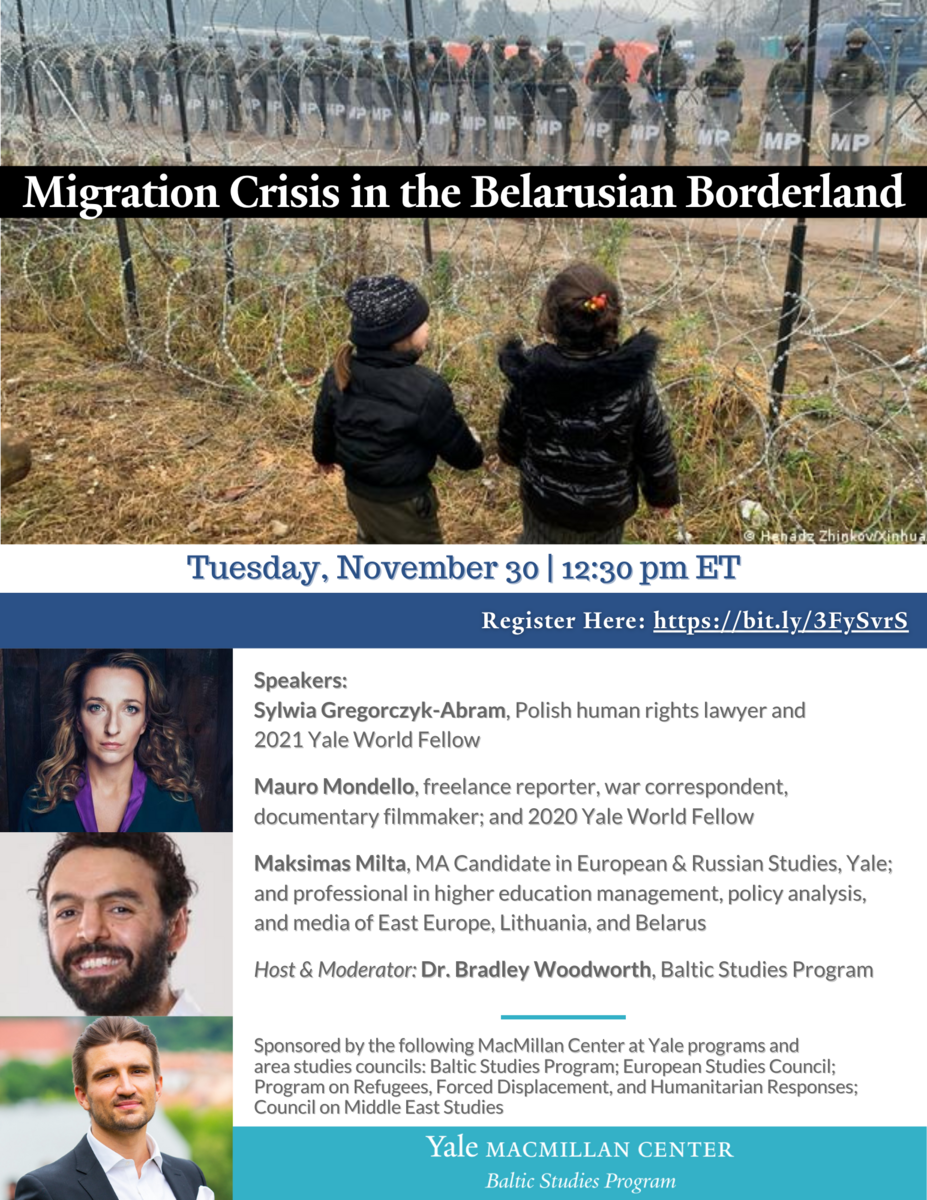 Sponsor:
See description
Contact:
European Studies Council
Email:
european.studies@yale.edu
Link:
http://europeanstudies.macmillan.yale.edu/