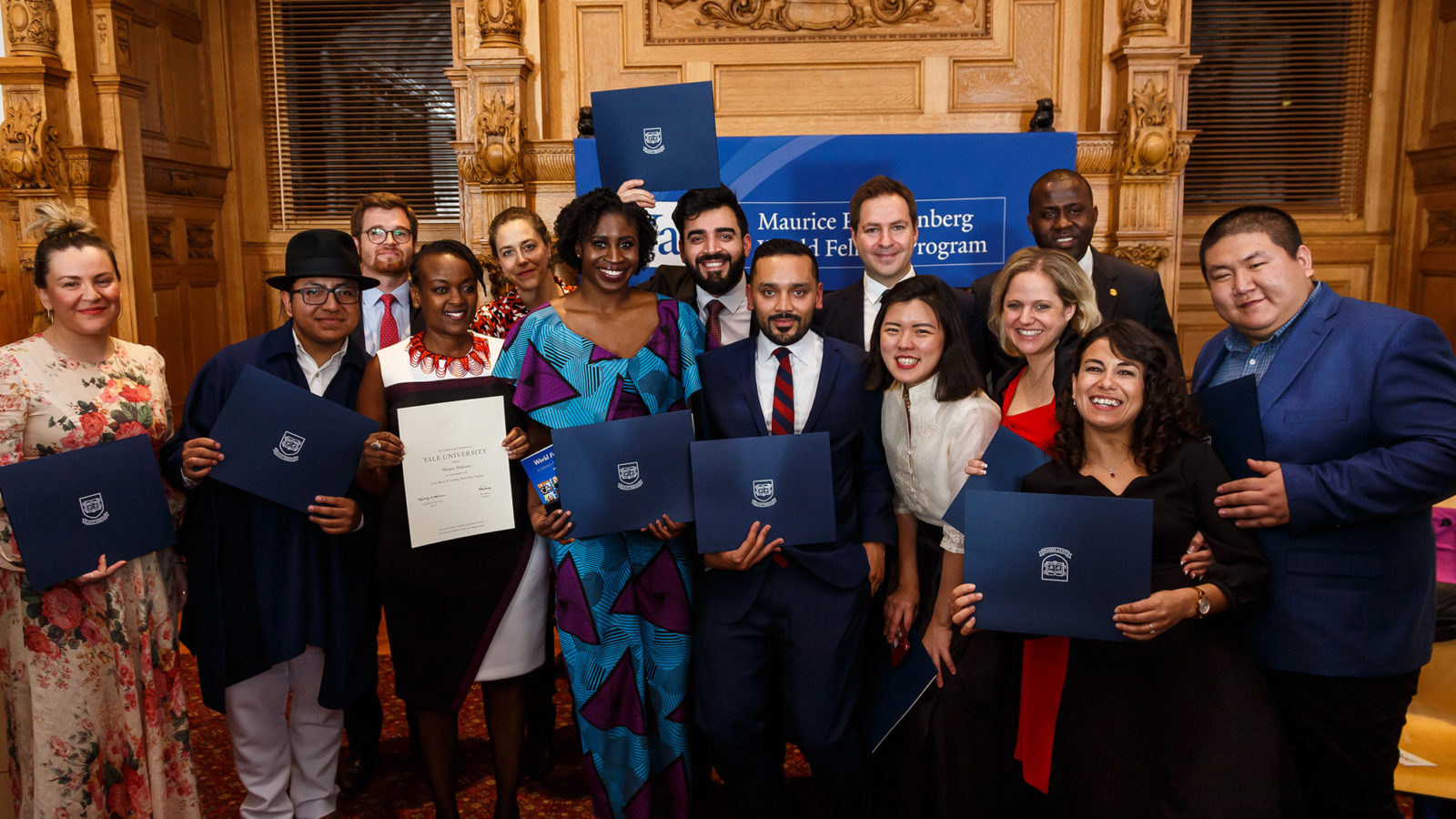 In Closing: Class of 2019 wraps up time at Yale
Posted on
The 2019 World Fellows concluded their four-month journey at Yale during the Closing Ceremony in Horchow Hall's GM Room on Dec. 10, 2019.
The 15 Fellows were recognized for their contributions to the Yale community, and each received a certificate. The ceremony was attended by friends and family members of the fellows, student liaisons who worked with fellows, Yale faculty and World Fellows & Jackson Institute staff.
Pericles Lewis, Yale's Vice President for Global Strategy and Vice Provost for International Affairs, offered welcoming remarks. He underscored the Fellows' contributions to the Yale community. "One of Yale's goals is to be the university that best educates global citizens and global leaders. You are models [for our students] of how to be engaged adults in a complex world. You've shown them how to make a difference," Lewis told the Fellows.
Emma Sky, director of the Maurice R. Greenberg World Fellows Program, also gave remarks. Sky referenced the turmoil that has erupted in the home countries of many current Fellows during the last few months.
"You are not people for whom it is enough to decry the problems of your countries. You want to do something about them. You are doers. Anarchy and authoritarianism can be prevented – and peace and democracy can prevail – when good people like you have conviction, and use your platforms, your skills, and your networks to build the good society," Sky said.
She challenged the Fellows to take action and to invest in their communities, using the new skills and knowledge learned while at Yale:
"On to standing for election, running ministries, improving health care delivery, delivering services to the most vulnerable, amplifying the voices of the powerless, championing and upholding the rights of women and girls, marginalized and indigenous communities, mentoring and training, mobilizing collective action, running social enterprises, advocating for trade and investment, protecting our planet," Sky said.
"I want to thank you for everything that you have contributed to Yale, the example you set to our students, for the inspiration, energy and enthusiasm that you bring," she said. "You are Yale World Fellows, leaders that build bridges not walls."
Lis Siegel, a Yale College undergraduate who served as a World Fellows liaison this semester, spoke about her experience.
"All of us liaisons here were lucky beyond belief to be able to spend the last several months in the company of visionaries from every corner of the world," Siegel said.
"The kindness and mutual support found at the intersections of the experienced fellows and those of us taking our first steps into proper adulthood is wonderful. Their paths have shown us as Yale students that there is no one set formula to success, no one right way to go about changing the world or starting a revolution. These are valuable lessons that we are truly lucky to be able to take from this semester," she said.
World Fellow Nizam Uddin was selected by his cohort to offer reflections. Uddin talked about the close relationships developed over the course of the semester, and reflected on each Fellow's unique characteristics and contributions to the group.
He also shared some key learnings from the semester about belonging, purpose, leadership challenges and the importance of not taking opportunities for granted:
"We must use our privileges to continue amplifying the voices of the voiceless, and advocating for the causes and campaigns that each and every one of us works on, and beyond: for the dignity and rights of all peoples, from Chile to Iraq; defending the rights of all indigenous peoples and ensuring the protection of their lands, cultures and livelihoods; leading individually sustainable lives by learning from our grannies; preserving the biodiversity of our oceans and our lands; protecting the freedoms of all journalists; empowering the next generation of women from across the African continent; and ensuring the social integration of all segments of our societies; to name but a few," he said.
The 2019 Fellows now join the World Fellows Network, a community of more than 300 fellows from 90 countries.