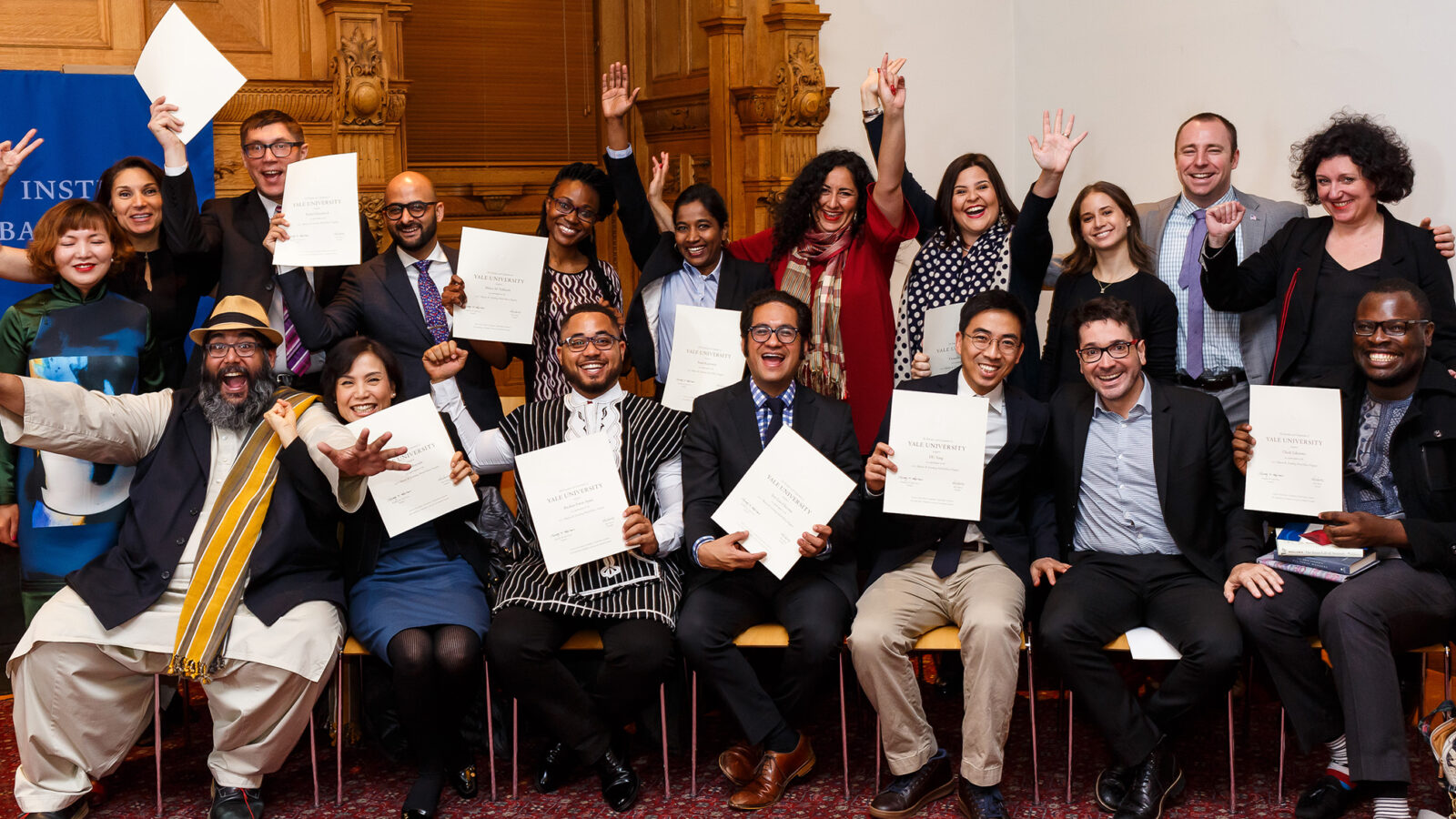 2017 Fellows wrap up time at Yale
Posted on
The 2017 Yale Greenberg World Fellows concluded their four-month journey at Yale during the Closing Ceremony in Horchow Hall's GM Room on Dec. 7, 2017.
The 16 Fellows and two Associate Fellows were recognized for their contributions to the Yale community and each received a certificate. The ceremony was attended by friends and family members of the fellows, student liaisons who worked with fellows, Yale faculty and World Fellows & Jackson Institute staff.
"Thank you for enriching our community," Professor Jim Levinsohn told Fellows. "We're a better place because you're here," added Levinsohn, who serves as director of the Jackson Institute for Global Affairs, home to the World Fellows Program.
Emma Sky, director of the Maurice R. Greenberg World Fellows Program, also gave remarks. She recognized the Fellows for their work and contributions to the community. 
"You are extraordinary role models," Sky told the Fellows. "You inspire each one of us to contribute our skills and energies to making the world a little bit better by how we live and what we do each day—whether locally or globally." 
"New chapters of your lives await. Take what you have gained from your time here at Yale and invest it back into your communities. Share it with others so that they benefit from the experience that you've had here. Go make the world a better place. And go forth with our love," Sky said. 
Yale College junior and Global Affairs major Metincan Suran, who served as a World Fellows student liaison this semester, was invited to speak at the ceremony. He reflected on the mentorship offered by World Fellow Annemie Turtelboom, who invited her liaisons to travel to Washington, D.C., over fall break, where she introduced them to her contacts in the area. 
"I don't think I could have learned the lessons that I have from working with Annemie, my fellow liaisons and the other World Fellows from any class I could take at Yale," he said. 
"U.S. President Teddy Roosevelt once said, 'far and away the best prize life has to offer is working hard at work worth doing.' Working hard at work worth doing describes my time as a liaison in this program," Suran added. 
World Fellows Lin Kobayashi and Abdul-Rehman Malik were elected by their cohort to give reflections.
Kobayashi and Malik talked about the close relationships developed over the course of the semester, and reflected on each Fellow's unique characteristics and contributions to the group. 
Malik observed that each Fellow came to Yale at a crossroads in their lives, seeking time to consider next steps. "I am not sure I have answered all the questions I came with. I am certainly leaving with many new ones," he said. "But at this political moment – as empires decline and we consider questions of identity, belonging and justice with a new sense of urgency – we all rejoin the battle for a better world nourished by our time here."
"Yale and the Fellowship will be a milestone for us. We are not alone in this struggle. There is hope. We have met so many here in New Haven who are building that better world – sometimes against what seem like insurmountable odds," he said. 
The 2017 Fellows now join the World Fellows Network, a community of more than 300 fellows from 87 countries.