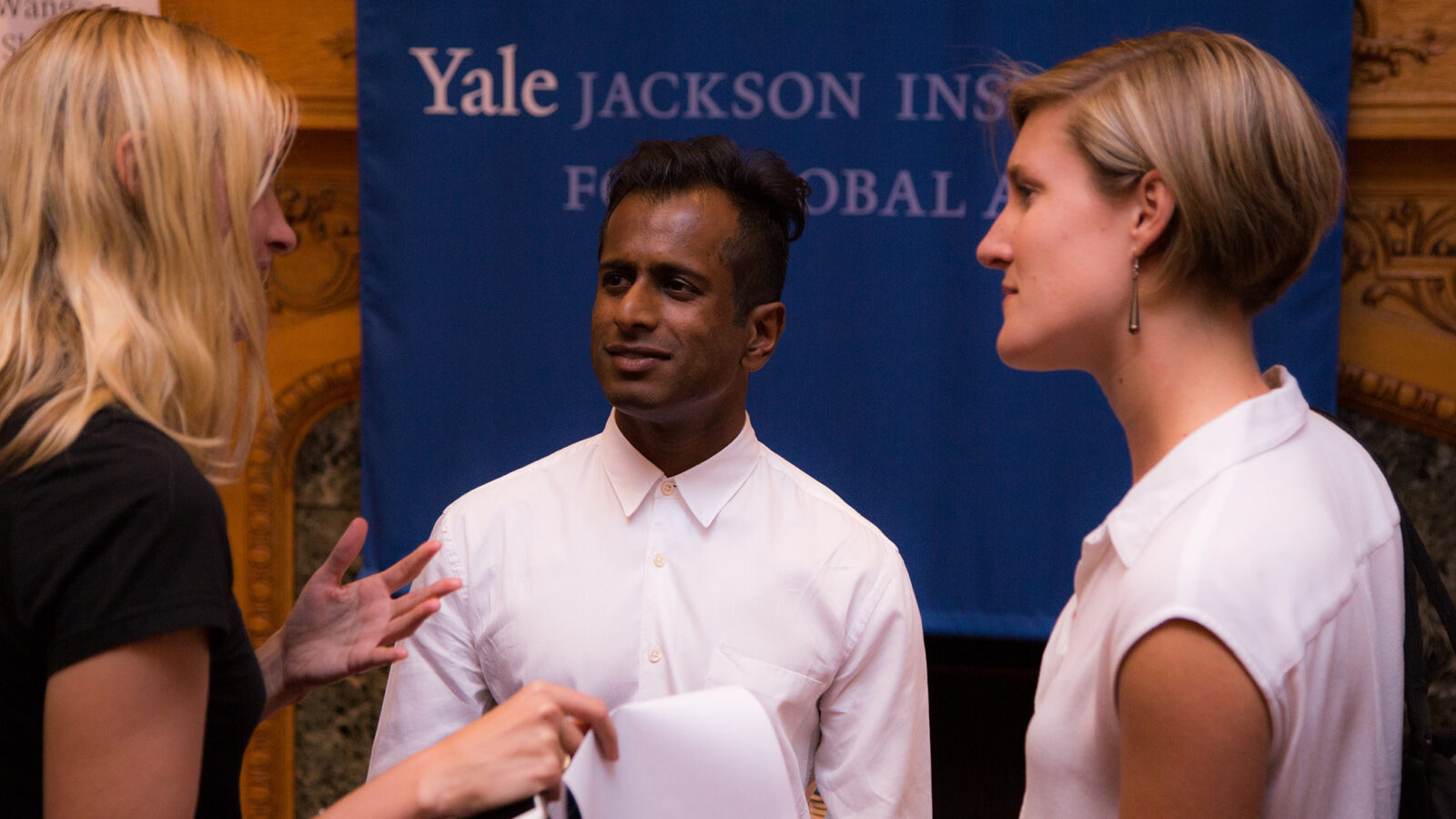 World Fellows Program marks 16th year
Posted on
When Norbert Mao came to Yale in 2003, he was a 36-year-old member of Parliament, representing the city of Gulu in the northern region of Uganda. At the time, the area was the epicenter of a decades-long war, and Mao was working with other parliamentarians to bring peace.
During his four months on campus, Mao made the most of Yale's extensive resources and academic offerings. He took advantage of the one-on-one media training provided by the World Fellows Program. Courses in corporate leadership and grand strategy helped expand his leadership skills, and a writing course helped him refine his communications skills.
Upon returning home, he jumped into the rough-and -tumble election process, putting his new skills to the test. After one unsuccessful run in 2005, Mao won a leadership election in 2010, and was re-elected in 2015. Today, he serves as president and chief executive officer of the Democratic Party, Uganda's oldest political party. He credits his time at Yale with helping him achieve his political aspirations. 
"World Fellows is a prestigious program which opens many doors. For instance, my time at Yale allowed me to meet a World Fellow who had worked with the presidential campaign of Mexico's Vicente Fox. I got hands-on mentoring on strategic campaign planning. Armed with those skills, I was able to win the leadership elections for my party and later run for president, coming third in a field of eight," he said.
Life-Long bonds and professional connections
Established in 2002, the World Fellows Program was one of several high-profile internationalization initiatives launched by Yale that year. Now in its 16th year, the program has welcomed more than 300 mid-career practitioners from across the globe for a four-month immersive and transformational journey at Yale. The World Fellows network now includes fellows from 87 countries.
Of the 309 World Fellows in the network, 58 hail from 20 countries in sub-Saharan and Northern Africa. A number of other past fellows live and work in Africa full-time. Each year, the World Fellows Program receives many strong applications from prospective fellows on the continent.
For 'Tokunboh Ishmael, a member of the 2013 cohort, the World Fellows Program offered time and space for personal reflection. Ishmael is the managing director of Alitheia Capital in Nigeria, an investment management and advisory firm that channels private equity investments into growing businesses and low-income households, with a particular emphasis on financial inclusion and female entrepreneurs. 
When she came to Yale, Ishmael said, it was an opportunity to reflect on her own leadership skills, refine her approach to problem-solving, and pause to look at the big picture.
"As a mathematician, we get caught up in the numbers," she said, adding that the program helped her learn to slow down, to take stock, and to seek balance in her approach to work.
Five years later, Ishmael said, she still calls upon members of her World Fellows cohort, who remain trusted colleagues and friends. Her firm recently hosted a visit from a group of Yale School of Management students. 
For South African entrepreneur Joshin Raghubar, a member of the 2016 cohort, the World Fellows Program offered a space for reflection and robust engagement, but also an opportunity to contribute. 
"As a World Fellow, I was 'gifted' with an elevated stage to bring a new African experience and voice into the Yale community, and conversely, as a World Fellow, this platform allows you to amplify this voice back home," he said.
"The World Fellows program weaves together shared values, diverse experience, and deep relationships and adds the incredible opportunity to tap into the Yale history and academic experience. You become part of a 'family' of fellows with deep inspiring relationships that will endure a lifetime. I am very proud and honored to be a World Fellow," he said.
Role models and mentors
World Fellows have a visible presence on campus. They give round-table talks, mentor students, take classes, and contribute to the intellectual life of the university. Many forge close ties with faculty members and students that endure long after their time at Yale.
Each fall, Yale undergraduates and graduate students volunteer to serve as liaisons to World Fellows. It's a chance for students to develop a close relationship with a particular fellow who shares their interests.
Yale College senior Sonia Helen Pascale served as a World Fellows liaison in Fall 2016. "Hearing their life stories has opened my eyes to the variety of ways that one can go about creating changes and solving problems in the world," Pascale said. "Thanks to time spent with the World Fellows, I am now more open to finding non-traditional ways of impacting those around me and taking my time to explore my options," she said.
Graduate student Yihana von Ritter underscores the important role that World Fellows play in the campus community. The program provides "exposure to people who are standing where I hope to be 15 years from now. It's far enough away that it's awe-inspiring, but close enough that I can still tangibly see a trajectory from me to them," she said. Von Ritter is pursuing an M.A. in global affairs at the Jackson Institute for Global Affairs and an M.B.A. at the School of Management.
Since 2015, the World Fellows Program has been part of the Jackson Institute for Global Affairs — home to graduate and undergraduate degree programs in global affairs, and a community that includes faculty scholars, senior practitioners and staff.
In 2016, Yale received a $16 million gift from The Starr Foundation, a private charitable foundation chaired by Maurice R. "Hank" Greenberg. In recognition of this gift, the university renamed its signature leadership education initiative the Maurice R. Greenberg World Fellows Program.
World Fellows is one of the many programs connected to the Yale Africa Initiative, an ongoing effort by Yale to prioritize and expand its commitment to Africa.