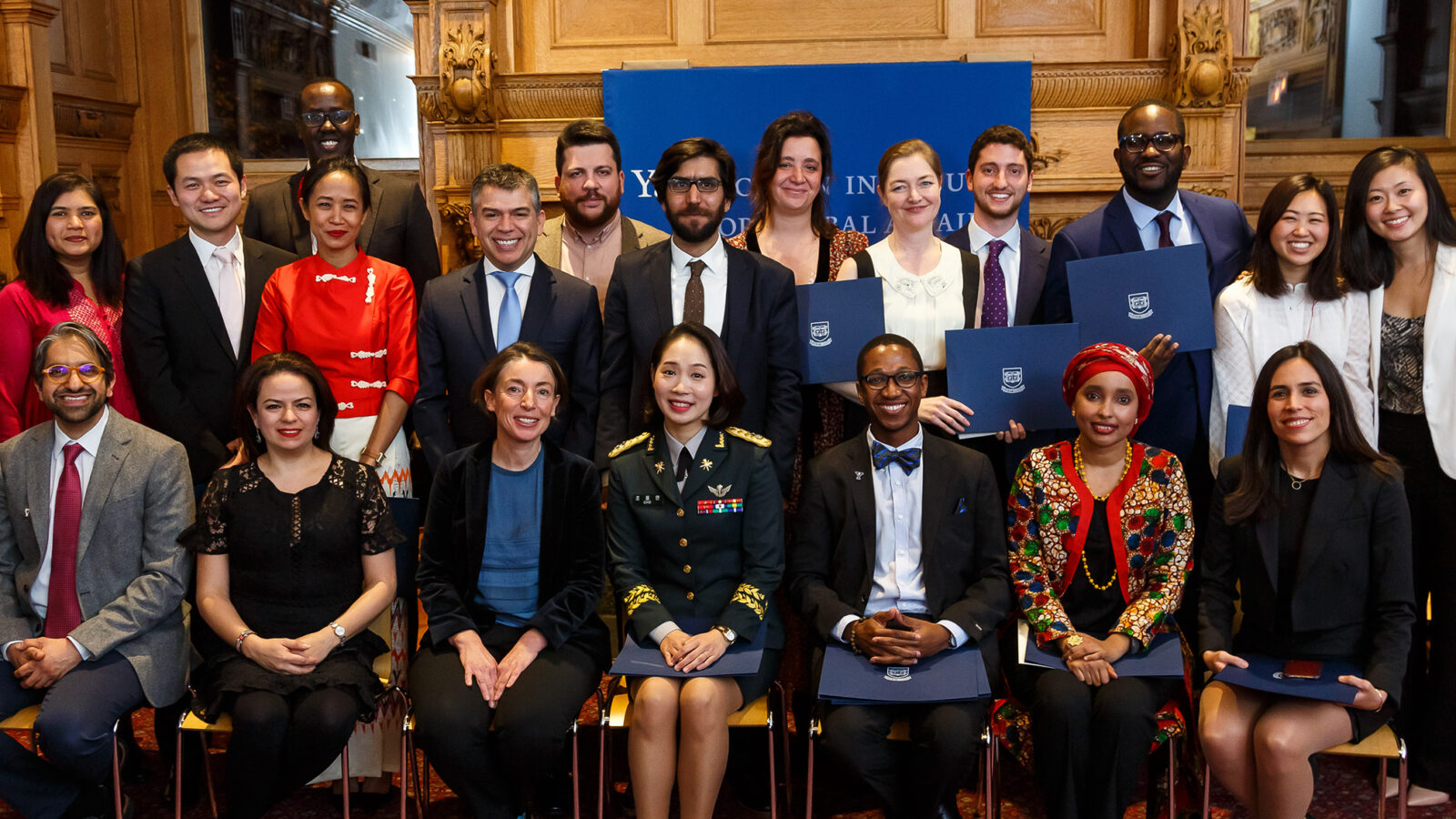 2018 Fellows conclude time at Yale
Posted on
The 2018 World Fellows concluded their four-month journey at Yale during the Closing Ceremony in Horchow Hall's GM Room on Dec. 6, 2018.
The 16 Fellows and three Associate Fellows were recognized for their contributions to the Yale community, and each received a certificate. The ceremony was attended by friends and family members of the fellows, student liaisons who worked with fellows, Yale faculty and World Fellows & Jackson Institute staff.
Pericles Lewis, Yale's Vice President for Global Strategy and Deputy Provost for International Affairs, offered welcoming remarks. He underscored the Fellows' contributions to the Yale community. "Yale has been immeasurably enriched by your presence here," Lewis said. 
Emma Sky, director of the Maurice R. Greenberg World Fellows Program, also gave remarks. 
"You are extraordinary role models. You have mentored Yale students, inspiring the new generation and influencing the paths that they will follow in their lives as they stride forth determined to leave the world a better place than they found it," Sky said. 
"You have felt the joy that emanates from fellowship. You have made friendships here that will last a life time. You have shown that what unites us is far greater than what divides us. You have demonstrated how each one of us can make the world a little bit better by how we live and what we do each day," she said. 
"Take what you have learned from your time here at Yale and invest it back into your communities so that others benefit from your experience. Go make the world a better place. And go forth with our love," Sky said. 
World Fellows ElsaMarie D'Silva and Ibrahima Amadou Niang were selected by their cohort to offer reflections. The two talked about the close relationships developed over the course of the semester, and reflected on each Fellow's unique characteristics and contributions to the group. 
The two invoked the words of American poet Mary Oliver, whose poem "What I Have Learned So Far" offered a framework for characterizing the Fellows' time at Yale and what they will do in the future. 
"Yale and the World Fellows Program have given us the opportunity to plant a seed. That is the seed of fellowship and common purpose. The responsibility lies with us to water the seed with our kindness and mutual support so that it can grow into a majestic tree whose branches can offer us shelter when we face hardships – and whose fruits can feed our minds and bodies to achieve great things for our countries. As Mary Oliver suggested 'all kindness begins with the sown seed,' " D'Silva said.
Susie Beyl, a Yale College undergraduate who served as a World Fellows liaison this semester, spoke about her experience. She reflected on the close relationships she built with several Fellows and the mentorship they provided. 
"I wanted to interact with the world in a new way; through those who were changing it. Seeing the Fellows, who seem to me like they have already left enormous legacies of change worldwide, congregate at Yale to continue learning about and from each other is inspiring," Beyl said. 
"The Fellows are proof that the path to making a global difference is not always linear, nor easy, nor pre-determined, nor glamorous. One does not become a "trailblazer" and a "disruptive thinker" by ignoring the world around them. 
"I believe there is a lot of truth in the statement, 'You have to see it to be it.' As a liaison, now having seen it, I will think back with unending gratitude to the 2018 class of Fellows with each step, whatever it might be, as I try my own hand at 'being it,' " Beyl said. 
The ceremony also featured a musical presentation by the Fellows, who offered a light-hearted rendition of the song "Alexander Hamilton" from the "Hamilton" musical. The Fellows had the opportunity to attend a performance of the popular musical earlier in the semester. 
The 2018 Fellows now join the World Fellows Network, a community of more than 300 fellows from 90 countries.