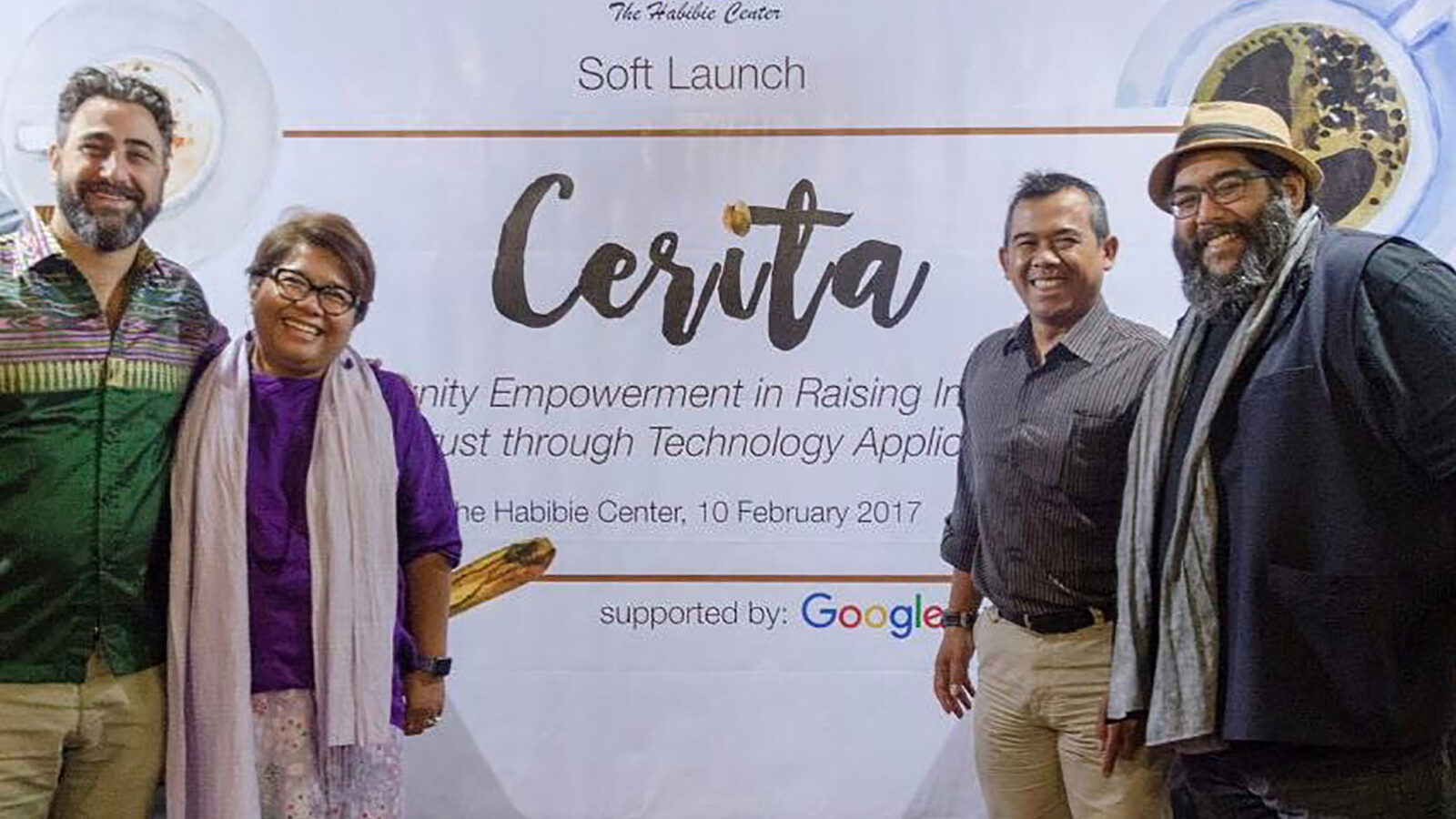 Fellows launch storytelling app to promote intercultural dialogue
Posted on
Two World Fellows from the Class of 2015, Ima Abdulrahim (pictured second from left) and Stephen Shashoua (at left), are collaborating on a new project to promote intercultural dialogue. During their time at Yale, Abdulrahim and Shashoua envisioned a mobile storytelling platform for youth, and their idea developed into CERITA: Community Empowerment in Raising Inclusivity and Trust through Technology Application. 
CERITA is based in Indonesia, at the Habibie Center where Abdulrahim is executive director. Shashoua is the founder of Plan C: Culture and Cohesion, and has long worked to promote interfaith dialogue. Other collaborators on the CERITA project include Abdul-Rehman Malik (pictured above, at right), program manager of Radical Middle Way, which promotes social justice among Muslim youth, and Rudi Sukandar (second from right), an associate fellow at the Habibie Center, a think tank focused on democracy and human rights.  
Abdulrahim and Shashoua see CERITA primarily as a storytelling project. It aims to create "a safe space where youth can talk and share their experiences and journeys of faith" and foster intercultural dialogue through a web- and app-based service. Abdulrahim wants to change the perception that "diversity is a division instead of a beauty of living."    
Technologically-savvy young people will likely be the cornerstone of CERITA's storytelling efforts. In Indonesia, there are more smartphones than people. In the era of Snapchat and Facebook, anyone with a smartphone can document their unique cultures and faiths.
"Technology is an easy but interesting way to engage with people," Shashoua said. The smartphone app, which will launch later this year, is intended to provide "a mosaic source of stories" available to anyone.
CERITA has enjoyed support from the technology and NGO communities right from the beginning. Google signed on as CERITA's main technological partner, and their developers shaped CERITA's app and web development. "It was the most amazing experience I've had for a soft launch of anything," Abdulrahim said.
Abdulrahim and Shashoua both agree that the World Fellows program was a transformative experience for them. While at Yale, Abdulrahim's primarily goal was to get more people interested in Indonesia and to help overcome the negative perceptions of Muslim countries and diversity. CERITA is a way to continue advancing toward that goal, but on a more global scale. In a time of increased divisions, both see dialogue as critical to peace and development.