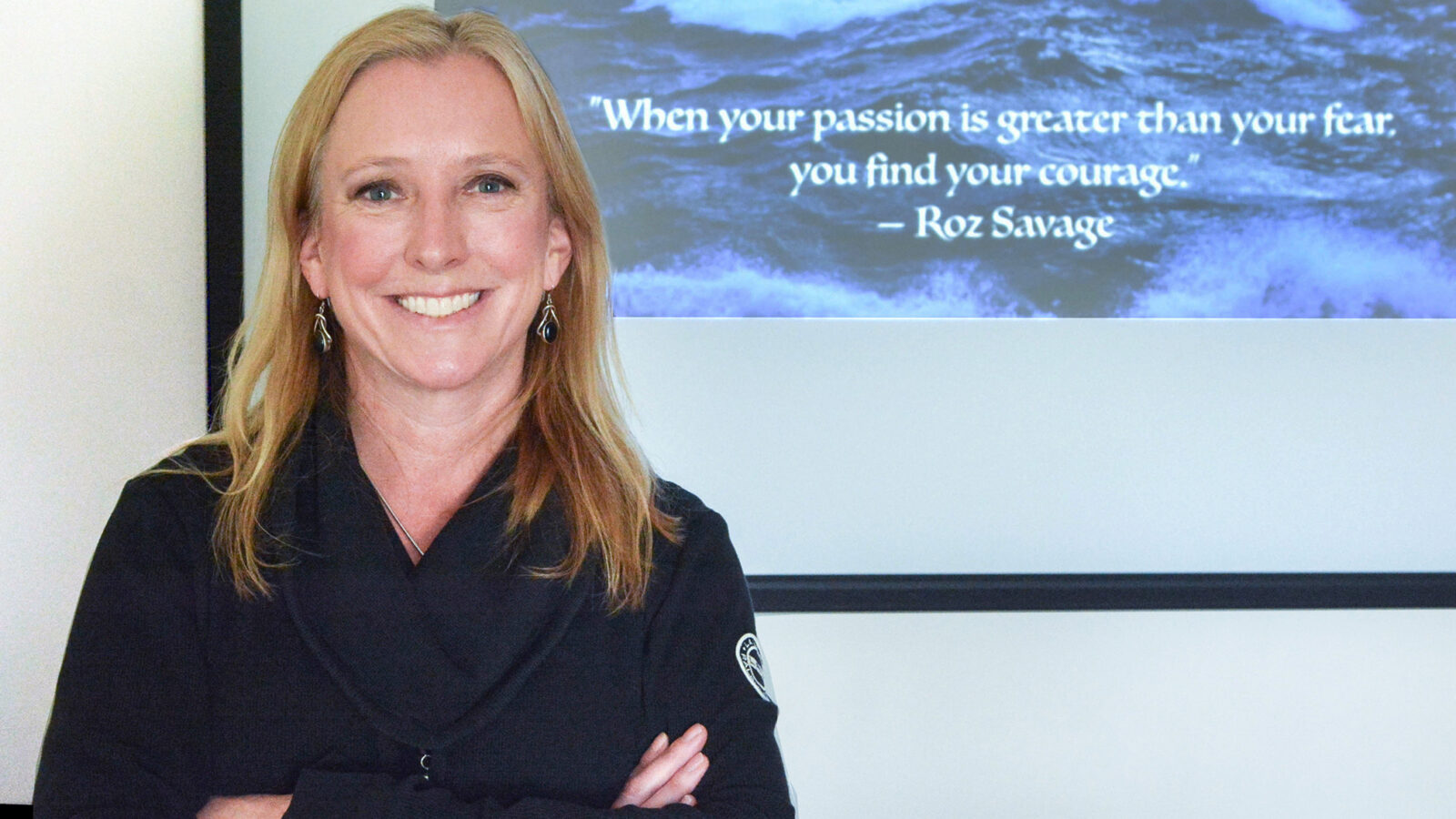 Roz Savage encourages Yale students to be courageous
Posted on
Yale News published a profile on World Fellow Roz Savage (Class of 2012), who is back at Yale this semester as a Senior Fellow at the Jackson Institute for Global Affairs. The March 1 story, "Noted sea adventurer hopes to inspire courageous students," was part of the Yale People series. 
The profile offers a glimpse into Savage's seminar course on courage. An excerpt appears below. Read the full version on Yale News
In a recent seminar in Luce Hall, a group of Yale undergraduates described how they had stepped out of their comfort zones since they last met together in the classroom.
One said she had composed an apologetic email to a friend with whom she'd had a falling out, making herself vulnerable if her effort to reconcile failed. Another described how she made a choice to say "yes" more often to invitations from friends when her usual response was to decline. Yet another undergraduate recounted how she got up the nerve to answer a request to write something about a friend who had recently died, even though it was a painful experience to do so.
The exercise is part of a weekly "courage challenge" for students in the undergraduate seminar "Courage in Theory & Practice," offered for the first time this semester. The seminar is led by Rosalind ("Roz") Savage, a Senior Fellow at the Jackson Institute for Global Affairs, who is no stranger to courageous feats: She is the first woman to row solo across the Atlantic, Pacific, and Indian oceans, earning her four Guinness World Records and the distinction of being named National Geographic's Adventurer of the Year in 2010. 
None of her students seemed the least bit intimidated by Savage's grand achievements when sharing their own challenge successes. In one of their first seminar sessions, in fact, they learned that their instructor's idea of courage doesn't require epic actions.
"She reminds us that courage is not necessarily about doing big things but instead can be an accumulation of small things," says senior Serene Li.
As its name indicates, the seminar explores courage from theoretical and practical perspectives. The class meets weekly for two hours, and thus far, students have considered such topics as heroism, intellectual courage, motivation and purpose, the courageous mindset, and courageous decision-making. In coming weeks, Savage and her students will examine, among other topics, truth and courage; managerial, political, and military courage; and how to nurture courage in themselves and in others. Read more