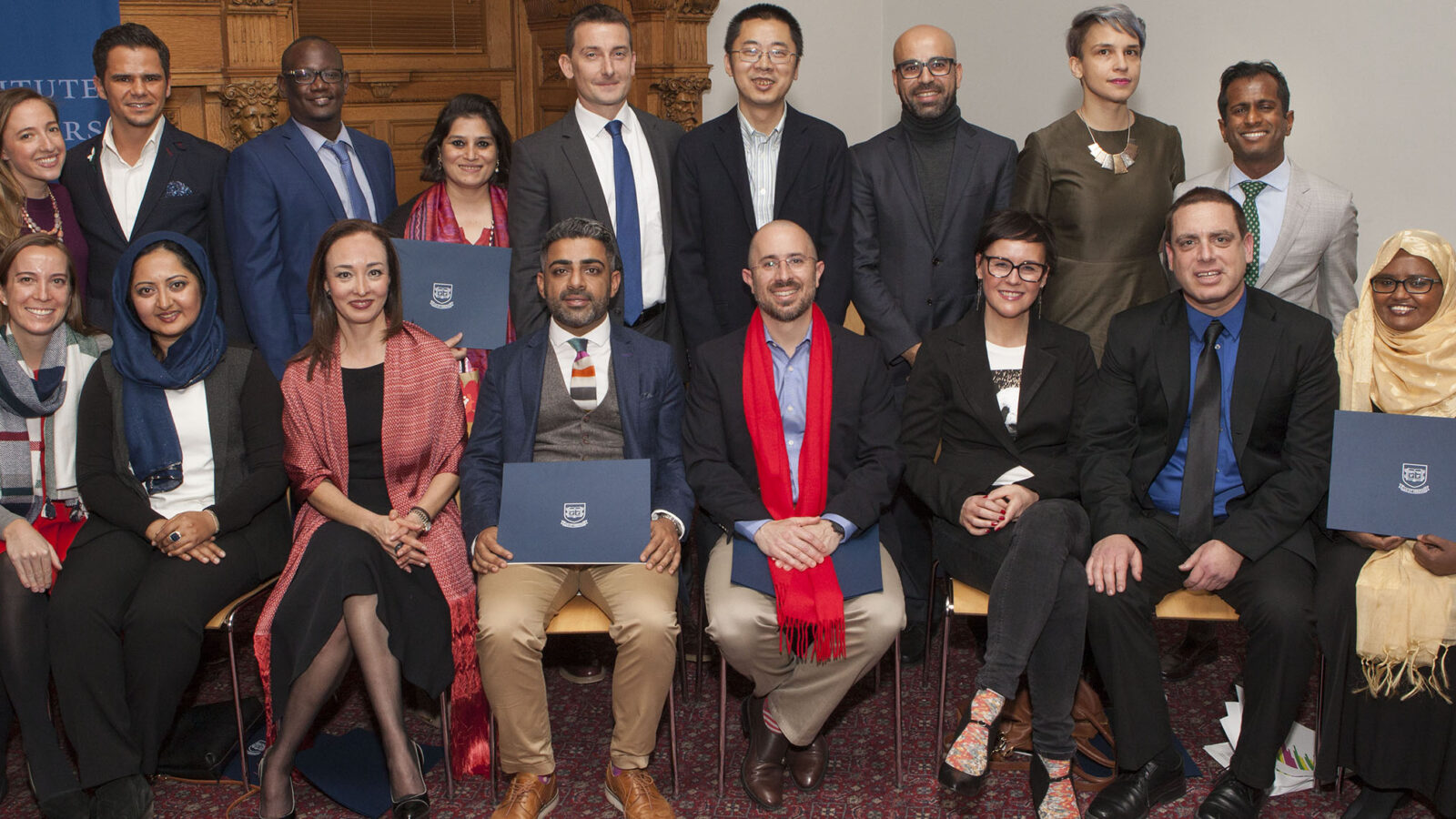 In Closing: Saying Farewell to the 2016 World Fellows
Posted on
The 2016 Yale Greenberg World Fellows concluded their four-month journey at Yale during the Closing Ceremony in Horchow Hall's GM Room on Dec. 8, 2016.
The 16 Fellows and two Associate Fellows were recognized for their contributions to the Yale community and each received a certificate. The ceremony was attended by friends and family members of the fellows, student liaisons who worked with fellows, Yale faculty and World Fellows & Jackson Institute staff.
"We've been incredibly blessed to have you here," Professor Jim Levinsohn told Fellows. "You've added tremendously to our community and we're grateful," added Levinsohn, who serves as director of the Jackson Institute for Global Affairs, home to the World Fellows Program.
Emma Sky, director of the Maurice R. Greenberg World Fellows Program, also gave remarks. Sky challenged Fellows to tackle the world's problems head-on.
"This is a call to action for all who believe in open societies. This must not be a time for cynicism or despair. Nothing about the future is preordained. Your task and purpose clear. Each one of you is committed to helping address the problems facing the world," Sky said.
"And you are not alone: you are part of a global network – a network built on shared values and trust. There is much work that needs to be done to divert disaster. It is up to all of us to strive to build a better future for the next generation," she added.
Sky recognized the fellows for their work and contributions to the community and thanked Yale student liaisons for their efforts to support fellows' activities throughout the fall.  
Yale College junior Sonia Helen Pascale, who served as a World Fellows student liaison this semester, was invited to speak at the ceremony. She reflected on how World Fellows helped broaden her perspective and opened her eyes to new potential career paths.
"Thanks to time spent with the World Fellows, I am now more open to finding non-traditional ways of impacting those around me and taking my time to explore my options. I am beginning to accept and be excited by the uncertainty my future holds," she said.  
"Hearing their life stories has opened my eyes to the variety of ways that one can go about creating changes and solving problems in the world," Pascale said.
World Fellow Daniel Ziv, a documentary filmmaker, author and social justice advocate based in Indonesia, was elected by his cohort to give reflections.
Ziv described the close relationships and bonds developed over the course of the semester. "We shared with one another our country's plights, and to an extent made each of them our own," he said. "In the four months since orientation, we've built a rare circle of trust and become a family."
Ziv also reflected on the group's reaction to the U.S. presidential election in November. "As leaders heavily engaged in the public sphere, what we watched unfold here reminded us that more than ever, for better or worse, politics matter, ideas matter, education matters, democratic institutions must be safeguarded, as does dialogue between different parts of society," he said.
"Today we end our fellowship, but begin our lifelong bond," he said.
The 2016 fellows now join the World Fellows Network, a community of 291 fellows from 87 countries.