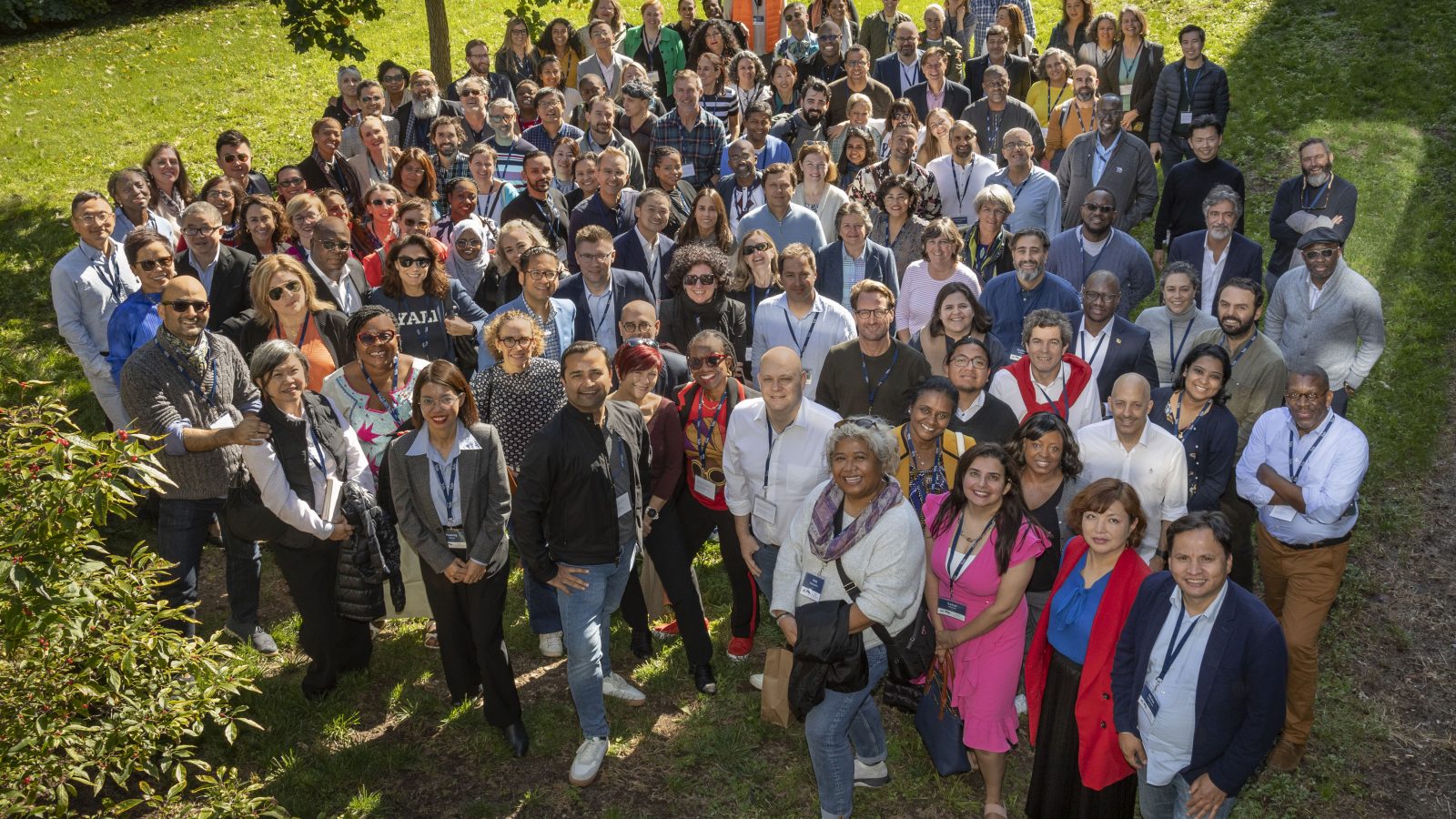 World Fellows Program Celebrates 20th Anniversary
Posted on
The Maurice R. Greenberg World Fellows Program celebrated its twentieth anniversary on October 14–16, 2022. Nearly 200 World Fellows, from as far away as Australia, China, Nigeria, and Argentina, returned to New Haven to take part in a weekend of discussions on the state of the world, how to address the challenges of our times, and the strengthening of networks across cohorts, countries, and sectors.
Emma Sky, Program Director (and Director of Yale's International Leadership Center), recalled that the first generation of World Fellows came of age at the end of the Cold War. "It was such a hopeful time. Democracy was on the march…There was optimism that intractable conflicts could be solved." Sky went on to explain how the Iraq war and the 2008 financial crisis led to a backlash against globalization, rising populism and increasing polarization. She described the chaotic US withdrawal from Afghanistan, and handing back the country to the Taliban, as "the final nail in the coffin of America's unipolar moment."
Russia's invasion of Ukraine marks an inflection point in history, Sky said. She urged Fellows to work on building a new world order fit for the 21st century, even during a time of war and uncertainty. She noted that "the leadership we need to drive global processes, reform institutions, and set new norms, will emerge when we devise a new language of solidarity, a new internationalism."
World Fellows paid tribute to Alexey Navalny, the leader of the Russian opposition and anti-corruption campaigner; Hakan Altinay, a distinguished Turkish intellectual and promoter of global civics; and Felix Maradiaga, a Nicaraguan academic, political activist, and former presidential candidate. All three are serving jail sentences on trumped up charges for daring to promote democracy and free speech. Three seats remained vacant all weekend for them. It was a reminder to all of their bravery – and of the price that Fellows are prepared to pay to defend their values.
During the weekend, World Fellows Laura Alonso, an Argentinian politician, Evan Mawarire, who led a social movement in Zimbabwe, Belabbes Benkredda, who runs an organization that promotes informed debate and free speech in the Arab world, and Stephanie Busari, CNN's Senior Africa Editor, discussed how to make democracy flourish in the 21st Century.
Kirsten Rulf, "Nerd-in-Chief to Angela Merkel," and Sasha Brown of DeepMind, spoke about the ways in which artificial intelligence and emerging technology can bring positive change to society. Belva Devara demonstrated how his company, Ruangguru, is making high-quality education more affordable and accessible across Indonesia. James Irungu Mwangi, who was recently awarded the 2022 Climate Breakthrough Award, shared his vision for making Africa the global hub of climate action.
In addition, a dozen World Fellows pitched the cutting-edge projects they are working – from digital banking for refugees, to reshaping our food systems and supply chains, to protecting the planet.
The Yale World Fellows Program was established in 2002 and has been directed by Dan Esty (2002-2007), Michael Cappello (2007-2015), and Emma Sky (2015-today). In 2016, the program received a $16 million contribution from The Starr Foundation and was renamed the Maurice R. Greenberg World Fellows Program.