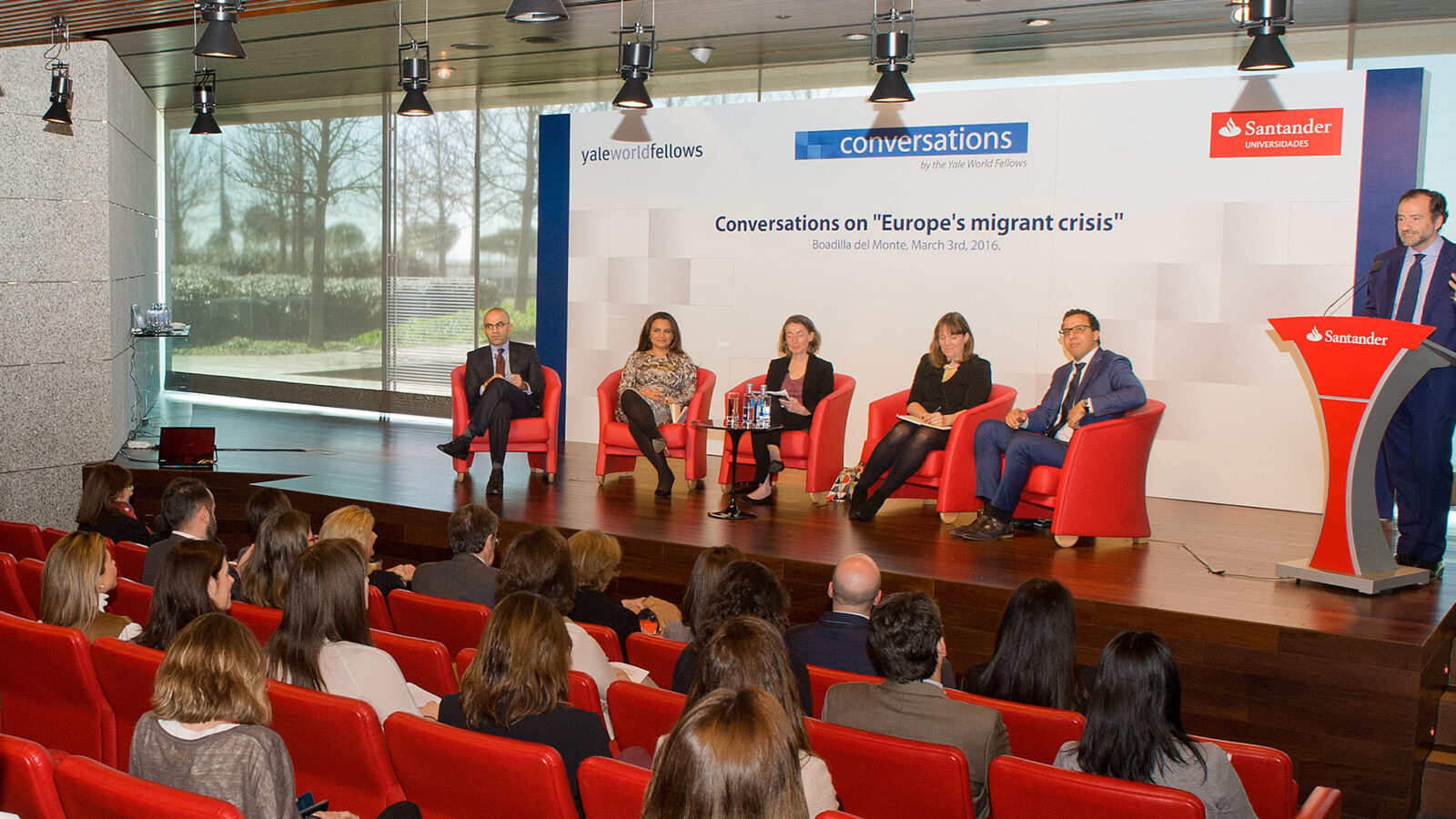 Yale co-hosts Conversations Without Borders event in Madrid
Posted on
We have to be more courageous.
That was one of the challenges issued by a panelist during the March 3 "Conversations Without Borders" on Europe's migrant crisis. Four Yale World Fellows gathered at the headquarters of Banco Santander in Madrid, Spain, to lead a discussion on the challenges and impact of the massive wave of migrants pouring into Europe from the Middle East each day.
Panelists included Mina Al-Oraibi YWF '15, an Iraqi-British journalist who has covered the conflict for many years, Mohamed Baba YWF '06, political secretary for the ruling part in Amsterdam, Mohamed Elfayoumy YWF '13, an Egyptian diplomat and political advisor to the UN Special Envoy to Syria, and Martina Larkin YWF '11 of the World Economic Forum. Emma Sky, the director of the Yale World Fellows and a Middle East expert, served as moderator.
Elfayoumy believes that while the situation remains extremely difficult, there is hope. He emphasized the importance of supporting the de-escalation of hostilities, helping push for political solutions, and seeing migrants as people.
"This will continue. Migrants see this as their legitimate right to pursue their individual future and their families' future," he said.
Al-Oraibi echoed the need to focus on individuals, rather than the numbers. "These numbers are actual human lives. Twelve million people have left their homes. This is about survival. They are fleeing for their lives," she said. 
Al-Oraibi also underscored the importance of streamlining the processing of migrants into host countries, thereby disabling the illegal routes and smuggling.
Larkin was asked to address how the crisis could impact policy and European stability. "There are huge dilemmas and problems faced by some of these nations," she said. "The migration crisis will fundamentally change Europe and the E.U."
Larkin said it would be a great loss if the EU open border policy and programs such as Erasmus were dissolved because of the crisis. "We should be capable of finding a solution," she said. "I'm worried about the future of Europe, but hopeful."
Baba challenged the audience to consider the crisis from a different perspective: what potential migrants offer instead of what trouble they bring.
The situation requires policymakers and government officials to be creative with the rules, Baba said. It's critical to integrate refugees quickly, he said, and to bring together public and private sector initiatives to help them.
In closing, Sky offered a broad view on the crisis: "It's really fate where you're born. We must constantly remind ourselves of this common sense of humanity. Refugees are people like ourselves with dreams and aspirations."